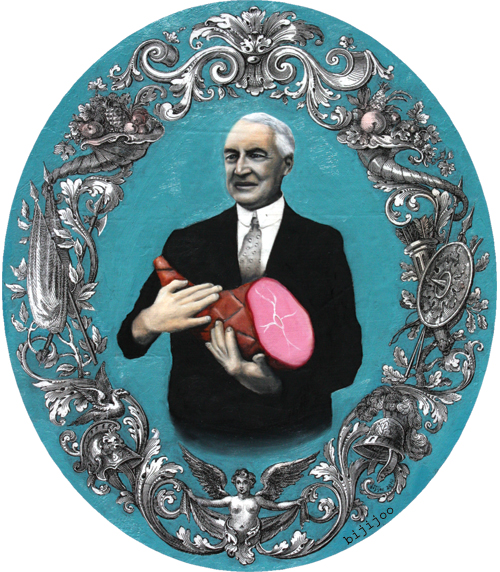 29th PRESIDENT
NAME: Warren Gamaliel Harding. He was named after his great-uncle the Reverend Warren Gamaliel Bancroft, a Methodist chaplain at the Wisconsin State Prison. Warren's mother had wanted to name him Winfield but deferred to her husband's wishes. She called him "Winnie," however.
PHYSICAL DESCRIPTION: Six feet tall, large-boned, and full-chested, he was darkly handsome with a thick head of gleaming white hair, bushy black eyebrows above soft, gray eyes, a classic Roman nose, and a rich, pleasant voice. He dressed impeccably. His health generally was poor. At 24 he suffered a nervous breakdown and spent several weeks in a sanitarium in Battle Creek, Michigan, run by Dr. J.P. Kellogg of the breakfast-cereal Kelloggs. Four years later, and sporadically thereafter, he returned to Battle Creek for rest. Besides frazzled nerves, Harding also suffered frequently from heartburn and indigestion.
PERSONALITY: Harding genuinely like people. His relaxed managerial style in running his newspaper in Marion, Ohio, made for good labor relations. In his more than three decades as publisher he never fired a single employee. As a legislator, he was well liked by members of both parties and although he voted the Republican line, his aversion to confrontation kept him above brute political infighting. In campaigning he always took the high road, pointing out the positive aspects of his candidacy rather than resorting to personal attacks on his opponent. Harding was truly humble, a humility that sprang from a candid awareness of his own limitations. "Harding desperately sought approval all his life," wrote biographer Andrew Sinclair. "He hated to be forced to decide on matters that might antagonize people. At any given moment of his career, he was prepared to trim his sails in order to please." Harding himself acknowledged his pliable nature in a revealing anecdote he recounted before the National Press Club in 1922: His father said to him ruefully one day, "Warren, it's a good thing you wasn't born a gal." When the boy asked why, Mr. Harding responded, "Because you'd be in the family way all the time. You can't say No."
PRIMARY SOURCE: DeGregorio, William A. The Complete Book of U.S. Presidents. 7th ed. Fort Lee: Barricade Books, 2009.