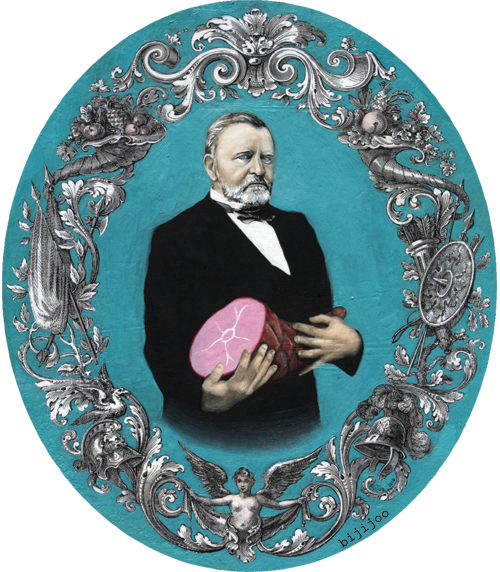 18th PRESIDENT
NAME: Hiram Ulysses Grant. He remained nameless for a month after his birth. His mother considered naming him Albert. But in the end he was named Hiram, after his maternal grandfather, and Ulysses after the hero of Greek mythology. The prospect of entering West Point with the initials H.U.G. emblazoned on his trunk embarrassed him, so as a new cadet he began signing his name Ulysses H. Grant, or U.H. Grant. But soon he learned that Representative Thomas L. Hamer, who had arranged for his appointment, had enrolled him erroneously under the name Ulysses Simpson Grant. Grant went along with the change, finding nothing objectionable under the initials U.S.G. Classmates began calling him U.S., or Uncle Sam, Grant. Thereafter he was known to friends as Sam.
PHYSICAL DESCRIPTION: Grant stood 5 feet 7 inches tall and, though rather slightly built, as muscular. On entering West Point at 17, he as just 5 feet 1 inch tall, a scant one inch above the academy's minimum height requirement, but sprouted 6 inches by graduation. He had soft blue eyes, wavy brown hair, thin lips, and delicate hands with long, slim fingers. He sported a full beard and mustache. He wore false teeth. He suffered from migraine headaches all his life. At West Point, he developed the nagging cough, hoarseness, and abrupt eight loss typical of tuberculosis, a disease prevalent in the Grant family.
PERSONALITY: Ironically, the man who achieved fame on the battlefield was particularly squeamish. Grant could not stomach the sight of animal blood. Rare steak nauseated him; he insisted that his meat be well done. He never touched fowl. "I could never eat anything that went on two legs," he explained. He did not hunt, even as a boy in rural southern Ohio where shooting game was a favorite youthful past time. Grant was modest, self-effacing, soft-spoken, and mild-mannered. One biographer, W.E. Woodward, went so far as to suggest that he was bit effeminate. "Young Grant had a girl's primness of manner and modesty of conduct," he wrote. "There was a broad streak of the feminine in his personality. He was almost half-woman. But this strain was buried in the depths of his soul; it never came to the surface, except indirectly, and he was probably not aware of it himself." Grant was somewhat prudish. He seldom used foul language. He disliked dirty jokes. And in the field he always bathed alone in a closed tent, never allowing even his aides to glimpse him naked. A serious, well-disciplined soldier, Grant spurned military pomp and pageantry. He was loyal to friends. A superstitious man, he believed it bad luck to retrace one's steps. If he inadvertently walked beyond his destination, for example, he would not simply turn around and walk back down the same street, but rather would keep going further away from the place and return via another road.
PRIMARY SOURCE: DeGregorio, William A. The Complete Book of U.S. Presidents. 7th ed. Fort Lee: Barricade Books, 2009.