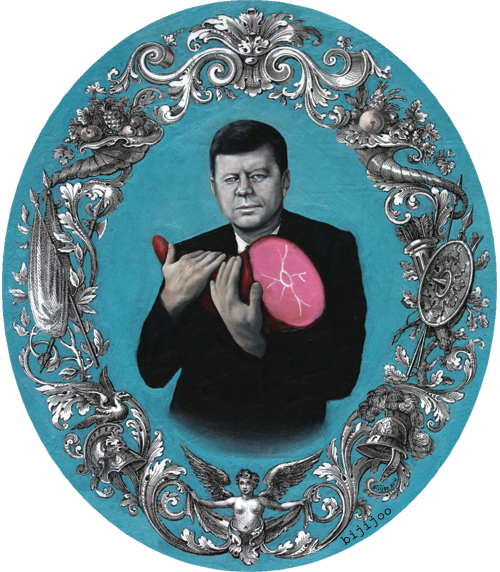 35th PRESIDENT
NAME: John Fitzgerald Kennedy. He was named after his maternal grandfather, John F. "Honey Fitz" Fitzgerald. He was Jack to friends.
PHYSICAL DESCRIPTION: Kennedy stood 6 feet .5 inch tall and weighed 170 pounds at the time of his death. Strikingly handsome and youthful in appearance, he had sensitive blue eyes, a mass of reddish-brown hair, and sound straight teeth. He wore reading glasses from age 13. His right leg was .75 inch longer than his left; he wore corrective shoes to compensate. Although he was muscular and athletic, his health generally was poor. He suffered from chronic back ache and was in pain much of his adult life. Injury in World War II aggravated his back condition. In 1954 he underwent spinal fusion surgery, following which he developed a nearly fatal infection and received the last rites of the Catholic church. He rallied, but his back plagued him for the rest of his life. He wore a canvas back brace for support and found some relief in treatments administered by Dr. Janet Travell of New York. From 1946 Kennedy also suffered from an adrenal insufficiency, an ailment akin to Addison's disease.  With cortisone, and later corticosteroid tablets, this was controlled. In 1951 Kennedy contracted a fever in Japan and was near death with a 106 degree temperature. Kennedy dressed fashionably but had an aversion to hats.
PERSONALITY: Kennedy described himself as, "an idealist without illusions" and considered his best quality to be curiosity, his worst irritability. Kennedy's charm, grace, and wit were to a great extent responsible for his immense popularity as president. He seemed distant to some, but, according to historian and Kennedy aide Arthur M. Schlesinger, he remained a bit detached in order to counter his extremely sensitive nature. For the most part he controlled his temper. Kenneth P. O'Donnell and other longtime associates report that he exploded in anger only twice as a national figure, once over a scheduling foul-up near the end of the 1960 presidential campaign and again during the confrontation with the steel industry. The Kennedy style, idealized after his death as the romance of the mythical Camelot, was, according to Schlesinger, simply "the triumph, hard-bought and well-earned, of a gallant and collected human being over the anguish of life."
PRIMARY SOURCE: DeGregorio, William A. The Complete Book of U.S. Presidents. 7th ed. Fort Lee: Barricade Books, 2009.