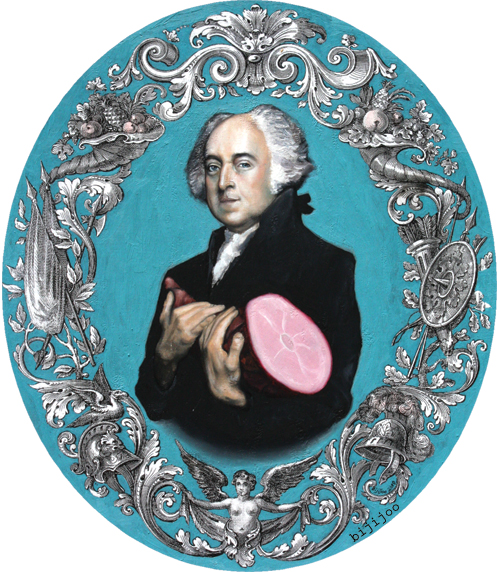 2nd PRESIDENT
NAME: John Adams. He was named after his father.
PHYSICAL DESCRIPTION: Adams was short, about 5 feet 6 inches, stocky in his youth, and portly in middle age. He had quick blue eyes and fine brown hair. Ironically, Adams, the longest-living president, was beset by a train of maladies throughout his 90 years. "My constitution is a glass bubble," he once said. He caught cold at the slightest draft; Boston's air gave him acute chest pains; headaches, heartburn, and general weakness slowed him down. His eyes were weak from his youth. In Amsterdam in 1781 he contracted a severe fever and lapsed into a five-day coma before shaking off this "Dutch complaint," which lingered three months. By the time he became president, his hands shook with palsy, and most of his teeth had fallen to pyorrhea. He refused to wear the ill-fitting dentures of the period and thus from this time talked with a lisp.
PERSONALITY: "There are few people in this world with whom I can converse," Adams once admitted. "I can treat all with decency and civility, and converse with them, when it is necessary, on points of business. But I am never happy in their company." This confession sums up the paradox of Adams's personality; he genuinely loved and had deep compassion for humanity but never learned to deal with individual human beings. To his immediate family, he was a warm, generously loving man; to outsiders, he appeared cold , aloof, conceited. As a youth he was driven by ambition. He was determined to be a man of substance and, if circumstances afforded the opportunity, a great man. Throughout his life he wrestled with his passions. From his mother he inherited his pugnacity, drive, ready temper, and broad mood swings. He frequently fell to black despair, fits of depression that were usually triggered by the onset of some illness, public criticism, or lack of recognition of his achievements. Some historians believe that he may have been manic-depressive. Somewhat paranoid, too, he was quick to see in his unpopularity a plot by others to discredit him and steal credit for themselves. A proper Puritan, he was shocked by the open sexuality of eighteenth-century France. At a dinner party in Bordeaux in 1778, a Madame de Texel, addressing Adams with innocent frankness, wondered aloud how Adam and Eve ever learned how to have sex, for no one else was around to explain the facts of life to them. Adams was thoroughly embarrassed, having never before heard a woman discuss such matters. He blushed but quickly regained his composure to explain with mock seriousness. "There was a physical quality in us resembling the power of electricity or of a magnet, by which when a pair approached within a striking distance they flew together like the needle to the pole or like two objects in electric experiments."
SOURCE: DeGregorio, William A. The Complete Book of U.S. Presidents. 7th ed. Fort Lee: Barricade Books, 2009.