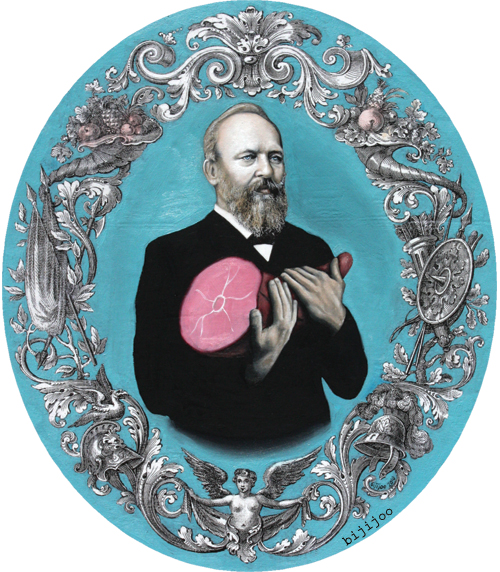 20th PRESIDENT
NAME: James Abram Garfield. He was named after his older brother James Garfield, who had died in infancy, and his father, Abram Garfield.
PHYSICAL DESCRIPTION: A muscular, robust, handsome figure, Garfield stood 6 feet tall and weighed about 185 pounds. He had a disproportionately large head, a prominent forehead, light brown hair, blue eyes, and an aquiline nose. He wore a beard from young adulthood. He was left-handed. His health generally was sound, except during periods of overwork, when he complained of body aches and indigestion.
PERSONALITY: Although a pugnacious youth, Garfield matured into a good-natured, amiable, and gregarious fellow. Extremely tactile, he liked to hug and stroke friends and characteristically slung an arm around the shoulders of whomever he was talking to. He was a gifted orator, among the most popular and persuasive of his day. He was most ambitious but did little to promote his own fortunes. "I so much despise a man who blows his own horn," he commented, "that I go to the extreme of not demanding what is justly my due." To refrain from self-aggrandizement became the guiding principle of his life. "He was convinced that he was destiny's child," biographer Allan Peskin has written, "marked out for some special purpose. Secure in his faith, he place his career in the hands of his destiny, preferring to drift with the tide of fortune rather than take the initiative and oppose it." As a young adult he experienced a prolonged period of mental depression, a period he later referred to as his "years of darkness." Similarly after his election as president but before the inauguration, he was overcome with a sense of foreboding. He complained of severe headaches. He began having nightmares of being naked and lost. Throughout his life, his self-confidence was fragile.
PRIMARY SOURCE: DeGregorio, William A. The Complete Book of U.S. Presidents. 7th ed. Fort Lee: Barricade Books, 2009.