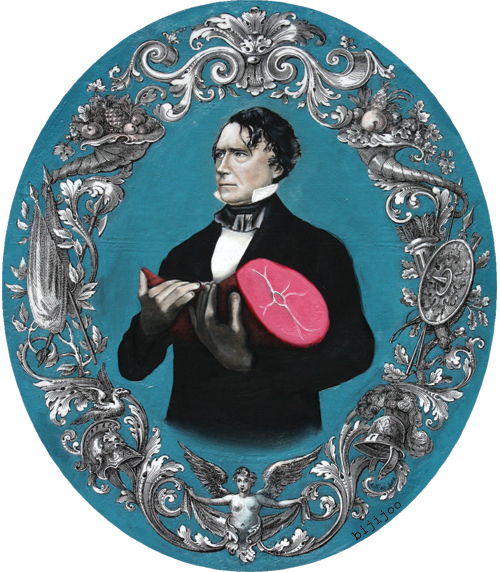 14th PRESIDENT
NAME: Franklin Pierce.
PHYSICAL DESCRIPTION: Perhaps the most handsome president, Pierce was a trim 5 feet 10 inches tall and had a classic Roman nose, gray eyes, and thin lips. His most distinctive feature was the mass of curly dark hair that he combed on a deep slant over the side of his broad forehead. While president, he was only slightly gray at the temples. He suffered often from respiratory ailments. As president, he had a persistent cough due to chronic bronchitis. Heavy drinking over many years also undermined his health.
PERSONALITY: Pierce as open, congenial, and pliant. He mixed readily and won friends easily. However, he suffered from periodic bouts of depression. He also fought a longtime battle against alcoholism. Pierce found it hard to say No. "He lacked a sustained feeling of self-confidence and was desirous of approbation," according to biographer Roy Franklin Nichols. "Consequently he endeavored to be gracious and accommodating to all who sought [favors]. His graciousness was interpreted by many to mean approval of their requests."
SOURCE: DeGregorio, William A. The Complete Book of U.S. Presidents. 7th ed. Fort Lee: Barricade Books, 2009.