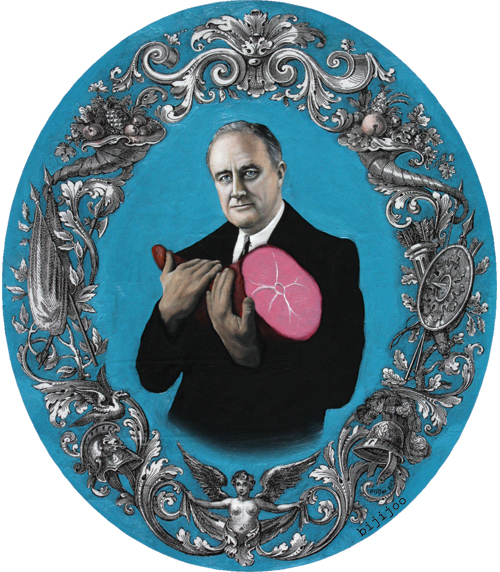 32nd PRESIDENT
NAME: Franklin Delano Roosevelt. He was named after a great-uncle, Franklin Hughes Delano. His father wanted to name him Isaac, but his mother objected. His mother wanted to name him Warren Delano, but her brother had just lost an infant by that name and in his grief persuaded her to choose another name. The indecision left the infant nameless for seven weeks.
PHYSICAL DESCRIPTION: Roosevelt stood 6 feet 1 inch tall and as president generally weighed in the 180s. Strikingly handsome, lean, and athletic as a young man, he had blue eyes, underscored by dark circles as he grew older, dark wavy hair, and a strong thrusting jaw. He was nearsighted and from age 18 wore eyeglasses. He contracted polio in 1921. After a day of sailing and fishing with his boys on Compobello Island, Roosevelt helped some local residents fight a forest fire and then took a cold dip in the Bay of Fundy. He jogged the mile back home, where, still in his wet trunks, he went through his mail. That night he went to bed with the chills. Two days later he could not move his legs. Dr. W.W. Keen (who had taken part in the cancer operation on President Grover Cleveland in 1893) of Philadelphia diagnosed some sort of temporary paralysis. Dr. Robert S. Lovett of Boston recognized the signs of poliomyelitis. Through rigorous exercise Roosevelt eventually learned to stand with braces and to walk briefly with crutches or canes. In deep water he was able to stand without braces. Except for polio and chronic sinus trouble, Roosevelt was strong and healthy. Although his lower limbs withered, he was muscular from the waist up.
PERSONALITY: Roosevelt was ebullient, charming, persuasive, gregarious, and genuinely interested in people and their problems. To some he seemed snooty as a young man; his habit of carrying his head back and literally looking down his nose at others through pince-nez reinforced this early image. According to his wife, being stricken with polio made him more sensitive to the feelings of other people. He was not the least bit sensitive about his handicap, however. While onlookers typically shifted about in discomfort as he was lifted in and out of automobiles or struggled with his ungainly braces, he invariably eased the tension with a joke or simply carried on a conversation as if nothing unusual were going on. As president during 12 of the most difficult years in American history, Roosevelt worked well under pressure. "His composure under stress was remarkable," commented biographer James MacGregor Burns. "The main reason for Roosevelt's composure was his serene and absolute assurance as to the value and importance of what he was doing." A common complaint about Roosevelt, even among his admirers, was his devious nature. Interior Secretary Harold Ickes complained that he never spoke with complete frankness even to his most loyal supporters.
PRIMARY SOURCE: DeGregorio, William A. The Complete Book of U.S. Presidents. 7th ed. Fort Lee: Barricade Books, 2009.